Thank you Officer Girsch and Dan McClure for donating your time and energy to our summer school programs. Thank you, the students enjoyed your visit. :)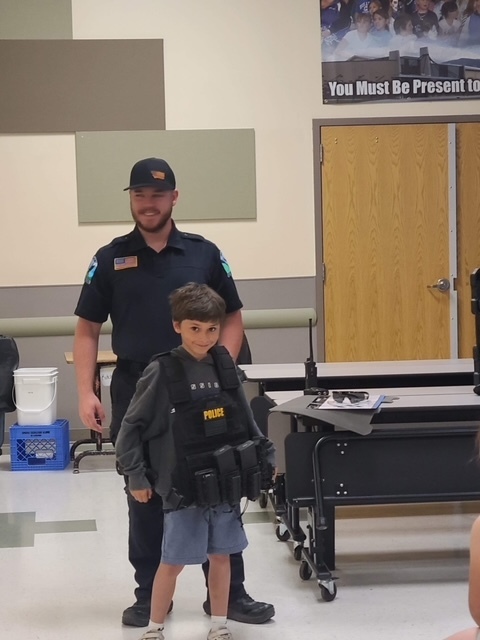 Book Giveaway!! Who: Tons of Books for Ages 0-19 When: Monday, June 27 5:30-6:30 PM Where: St. Ignatius School Library Sponsored by: AMFT, First Book, Lower Flathead Ed. Assoc., MFPE, Plains Teachers Organization, St. Ignatius Fed. of Teachers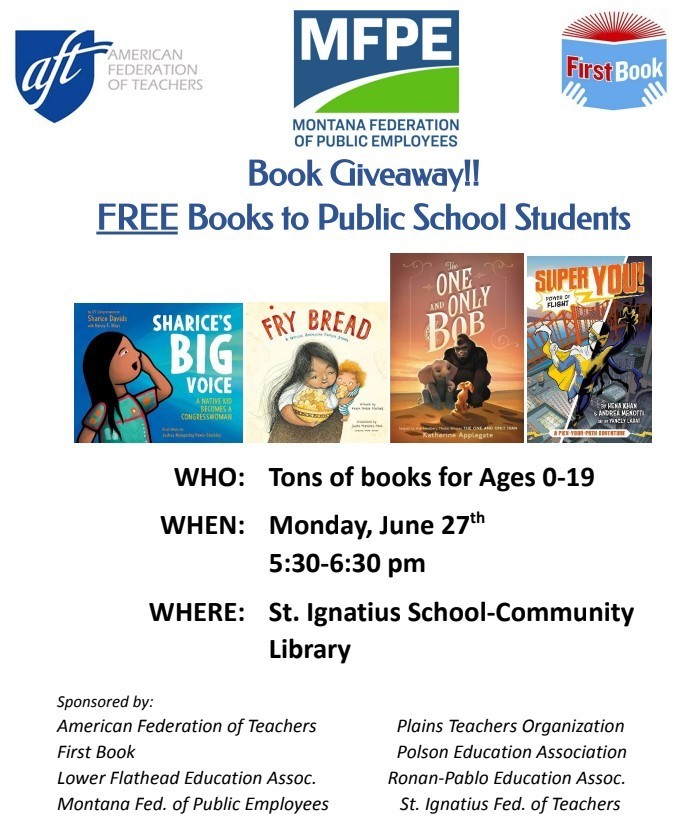 Summer Program Special Guests Today!! Thanks Smokey Bear and Mr. Dev LaFrombois for visiting us today. :) Only you can prevent forest fires.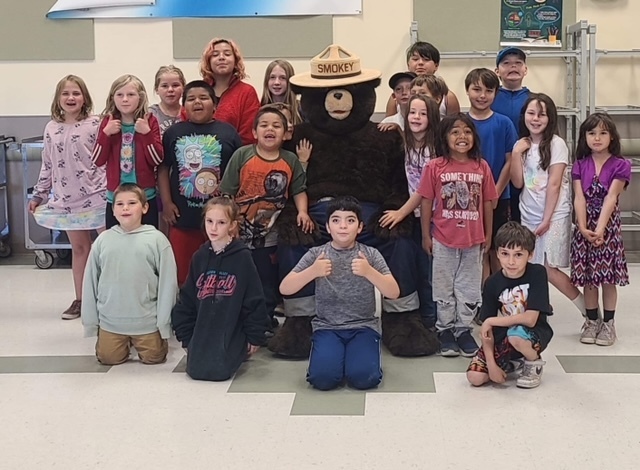 Hope to see you out there this summer for the Bulldog Blitz Scramble on July 23rd. Contact Stuart Grant for more information.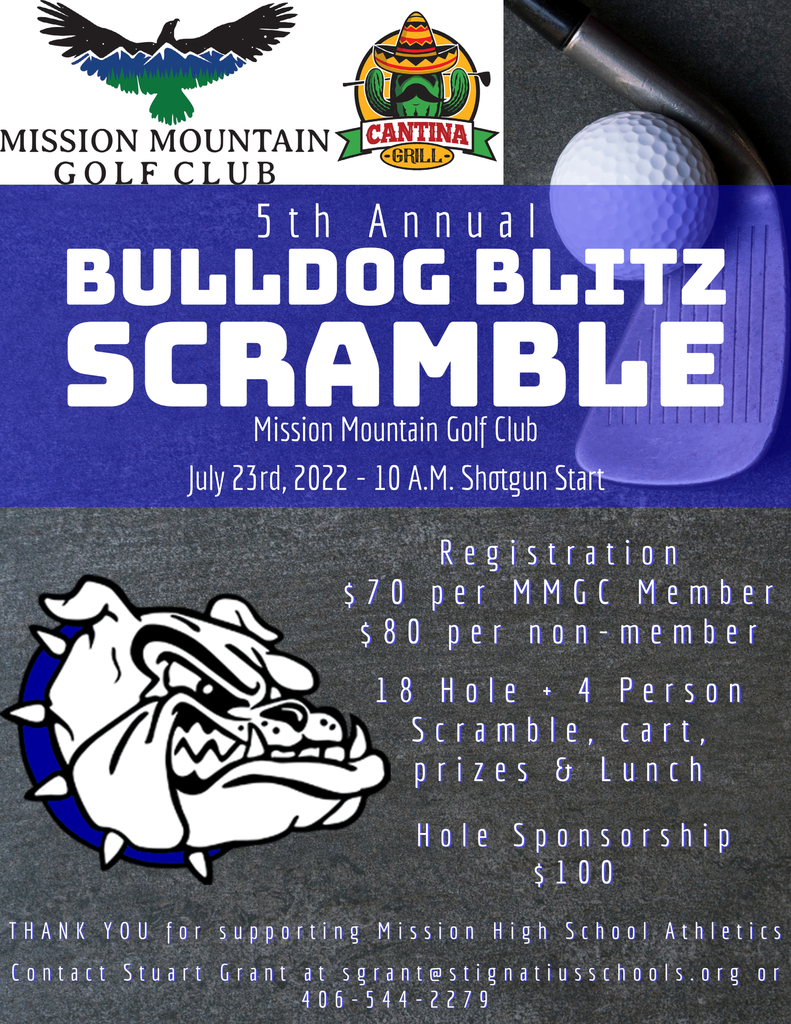 Boys and Girls Club - Mission Boys & Girls Club for this summer will be joining the Ronan Club. Pick up (8:30 am) and Drop off (5:30 pm) will be at the Mission Teen Center, south side of the High School parking lot. During Summer School (June) a lunchtime pickup and drop off will be provided for Club members attending. For more information, please call 406-744-2100 or 406-676-5437. to register your child or children please visit the Club's website at flatheadbgc.org/summer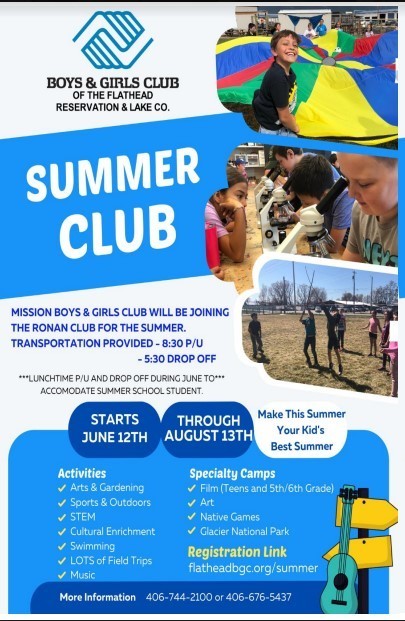 Due to the weather forecasts calling for 58-89% chances of rain on Saturday, we will be holding the Class of 2022 graduation ceremony in the old MHS Gym. We've loved having the past two graduations outside, but we can't take down and set up very quickly if it does rain. We want everything to run smoothly for this momentous occasion. We hope to see everyone at Noon on Saturday, June 4th. Go Bulldogs!

Reminder: 8th Grade Promotion takes places Wednesday, June 1st at 4pm in the new gym. 8th graders are to report to the Middle School Commons at 3:30pm. We're looking forward to it.

Final from the State Championship softball game, Mission 11- Florence 14. Runner-up for the 2nd year in a row. Kudos to the players and coaches for an amazing, hard-fought season. #bulldogpride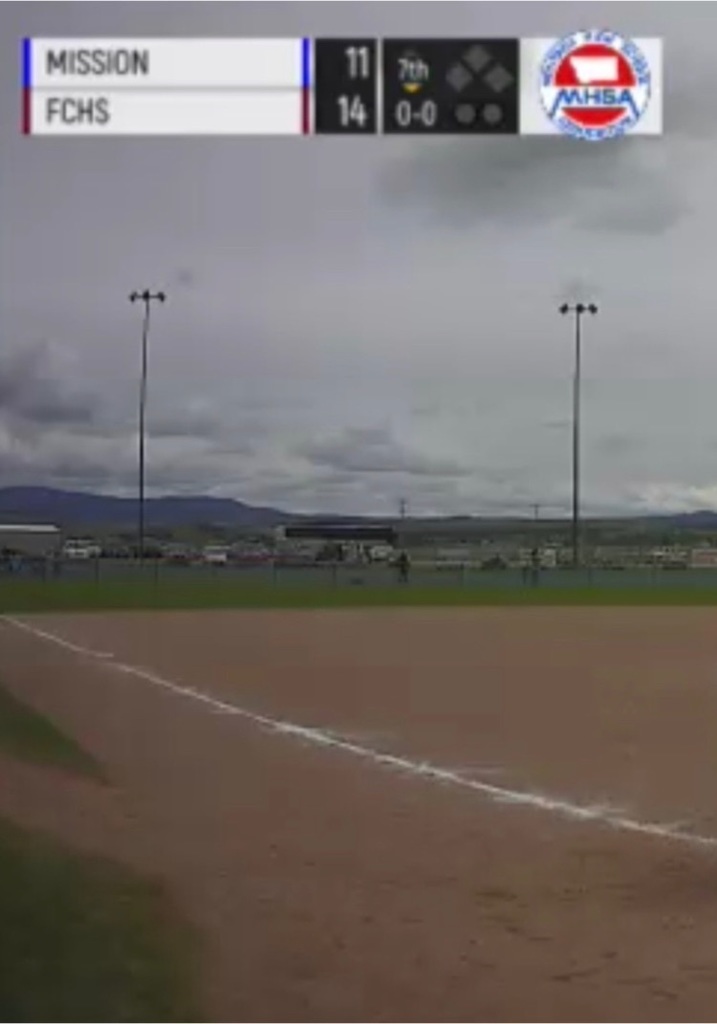 Softball is playing Florence right now for a spot in the state championship game! Let's go ladies!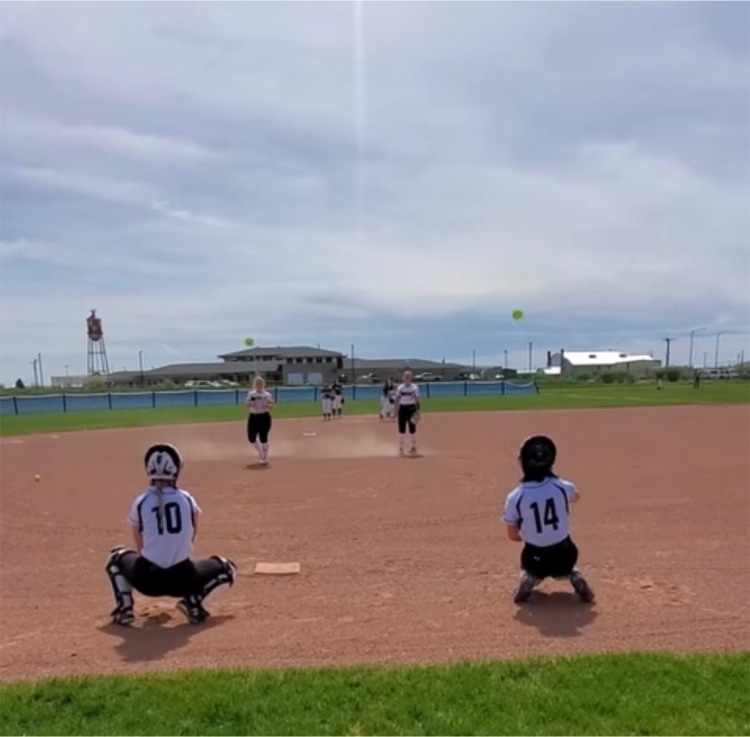 The last day of school is Thursday, June 2nd. We will have an early dismissal at 12pm. Buses will run at noon. Have a great summer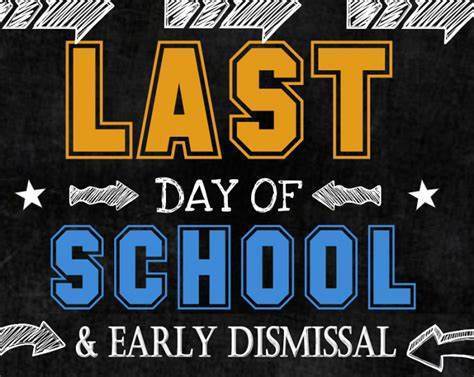 Parents and Community: Today St. Ignatius School District #28 was notified of a social media threat against the school. The school was on soft lock down to just be safe and the person responsible for the threat was in custody before school ended. We released students as normal at the end of the day. No one was on campus that posed any threat to the district. We will resume school tomorrow at our normally scheduled time.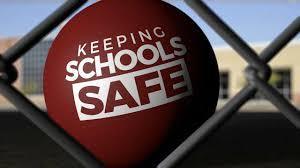 Junior College info night! This is all current Juniors heading into their Senior Year. Tuesday, May 31st at 6:30pm in the High School Commons.

Mrs. Cable and Mr. Lyon were honored today at our Bulldog Powwow! Honor Song and some Dancing! :) Thank you Powwow host Vance Home Gun and the Drum Groups for honoring two great people that will be truly missed.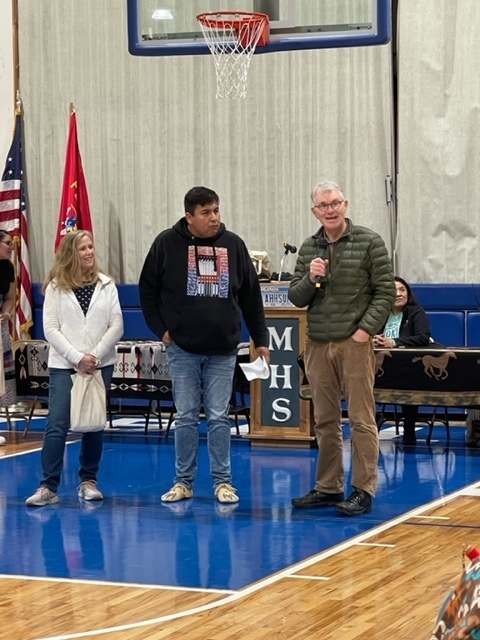 St. Ignatius Elementary Summer Program: Sessions and Hours for Students- June 6-June 30 Monday-Thursday 8:30-9:00 Free Breakfast 9:00-12:00 Session 1 12:00-12:30 Lunch Free Lunch 12:30-3:30 Session 2 Contact the School and Get Signed Up. This is a great way to catch up on learning loss due to Covid. Please Share and Get Signed Up. :) 406-745-3811x1021 Connie Marchant Boys and Girls Club Summer Program June 13-Aug. 12 Monday- Friday 8am-6pm Meals Included $50 a Month Contact Boys & Girls Club to get Signed Up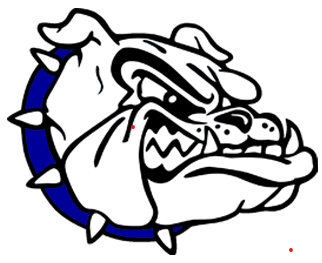 Mrs. Shelman's Photography class pictured here at the Bison Range. Huge thanks to MHS Alum Steph Gillin for taking the time to speak to our students and show them all of the new displays. #bulldogconnections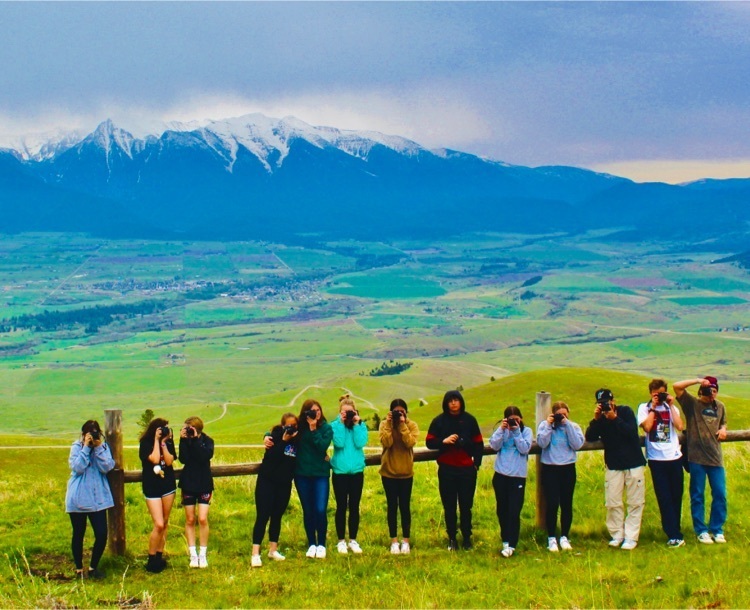 WESTERN B-C Divisional Bracket for MAC Softball @ Plains High School.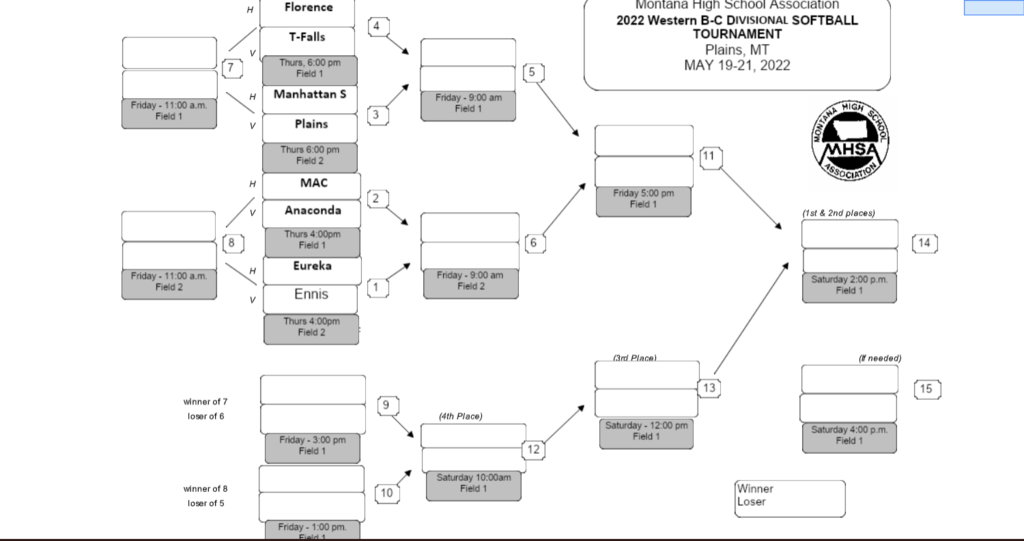 Congratulations to Tony Incashola Jr. on his election to the St. Ignatius School Board. We thank past Trustee Stan Delaney for volunteering his time for the past three years.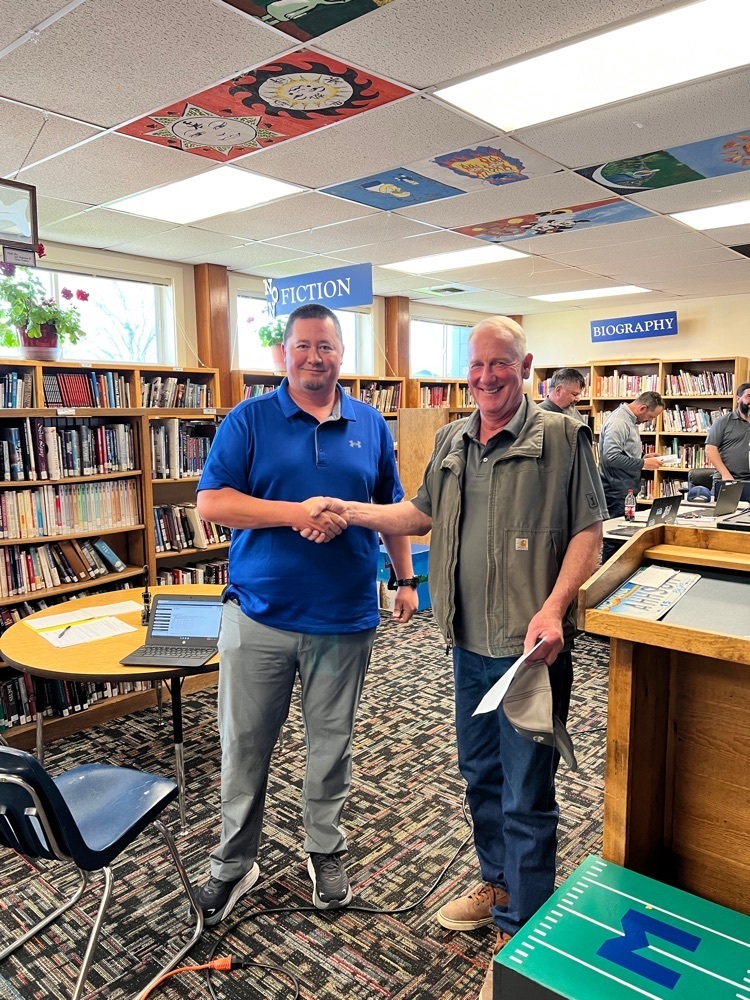 District Pow Wow, Thursday May 19th. Grand entry with our Veteran's and Senior Class will start at 1pm.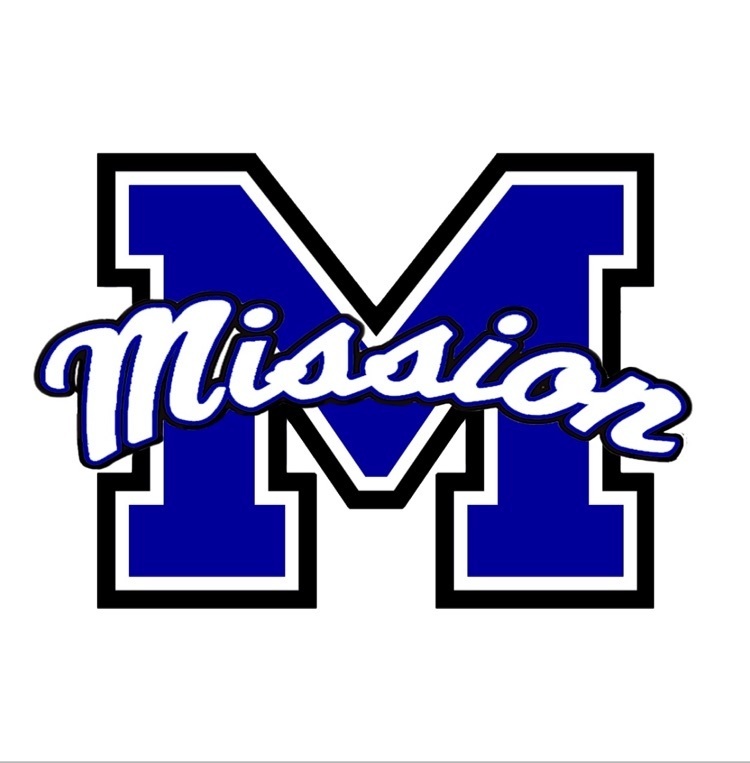 No school for students Friday May 13. Teacher in-service day

MAC softball had the rare opportunity to play on the Lady Griz softball field against Florence this morning. The outcome isn't what we'd hoped for, but still a great experience for the girls. #gobulldogs